Flowers and weddings are such an essential pairing that you just can't have one without the other. Your Big Day is supposed to be one for the books, and the perfect blooms should complement one of the most perfect moments of your life!
Besides being a wedding tradition, the right flowers can help elevate your color palette, complete your wedding party look, and add personality to your ceremony decor.
The bouquet is the crown jewel of any bridal ensemble and one of the most-photographed details. And bridal bouquets are a lot easier to choose, buy, and work with than you might think!
********
The options may seem overwhelming, but if you choose one or more of these guidelines you'll be able to find something you love quickly and efficiently!
Consider the tone or theme of your wedding. Flowers all have their own unique personalities and meanings, making some more appropriate for your wedding than others.
Say yes to the dress before the bouquets. Busier wedding dress patterns do well with simplified wedding bouquets and vice versa. The same is also true for dresses with full skirts versus more form-fitting styles. Your bridal bouquet balances everything out.
Use your wedding color scheme. They don't have to exactly match, but the colors of your bridal bouquet flowers should exist in the same palette as the rest of your decor.
Look at what's in season. These flowers will often be easier to source and cheaper to supply.
Work with a florist. Chances are they'll have a lookbook as well as some professional recommendations ready to go. Even if you're fairly certain you know what you want, it doesn't hurt to pick their brain about additional options, possible issues, or anything else you might not have thought about with this particular set of blooms!
Source: https://www.wedding-spot.com/blog/beautiful-bridal-bouquet-ideas
1. Filler Flowers
Filler flowers deserve some time in the spotlight too! A wedding bouquet comprised of just filler flowers could be the hidden floral gem for which we have all been searching.
We suggest using baby's breath, delphinium, or feverfew daisies for your rustic wedding bouquet!
2. Greenery
Sometimes, flowers aren't always the way to go. But no worries, we just want to show some of our favorite greenery some love too! If you absolutely love earthy tones, then you should definitely look into eucalyptus, rosemary, succulents, kale (yes, like the produce) or lamb's ear.
3. Dried Flowers
It's every bride's dream to want to make their wedding bouquet last forever, and they totally could!
Dried flowers are a great way to make your floral arrangement look beautifully rustic and long-lasting. Some of our favorites are dried lavender, hydrangeas, and roses!
4. Black Blooms
Okay, hear us out. Black may not be the most traditional color for the happiest moment of your life, but for the ones who just can't enough of the gothic look, black flowers are perfect addition to your wedding!
5. Tropical Bouquet
Planning for a beach wedding? What better way to match the ocean backdrop than with a bouquet of tropical flowers and greenery in your arms!
Pineapples, ginger, and orchids make up the perfect tropical bouquet for you Big Day.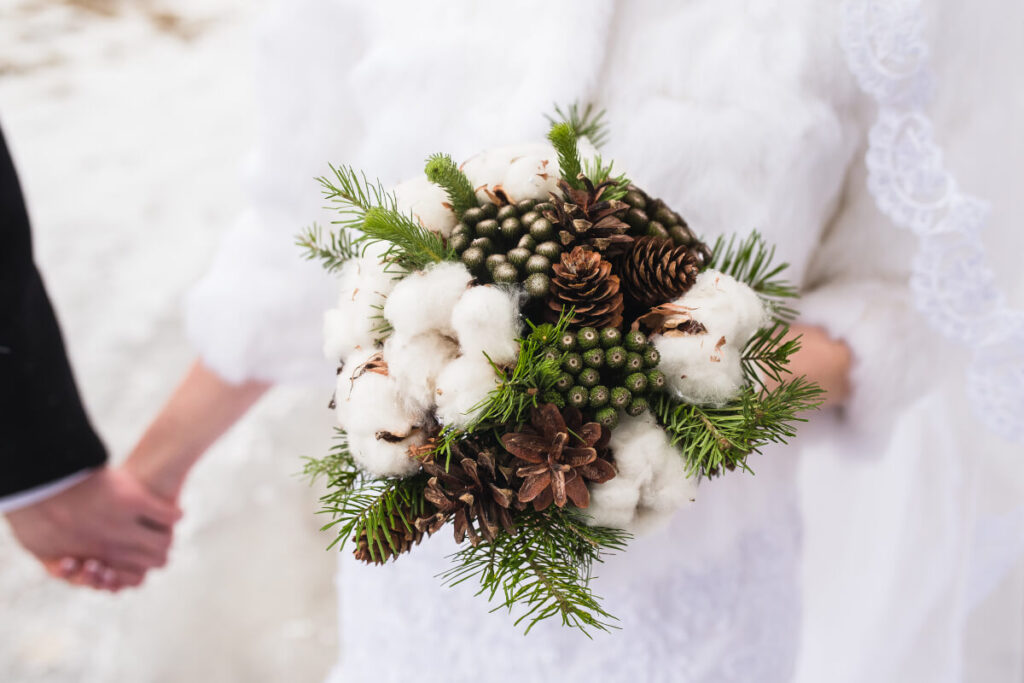 6. Cotton Arrangement
They say you feel like you're on Cloud 9 on your wedding day, so who says your wedding bouquet can't reflect that same sentiment? Putting together a few stems of cloud-like cotton can very-well be the perfect wedding arrangement!
7. Sheet Music Flowers
Paper flowers are all the rage nowadays, and if you're a big music fan, then you should definitely bring out your crafty side for a sheet music flower bouquet!
Source: https://bouqs.com/blog/unique-wedding-flower-bouquets/
********
SuEllen's Floral Company can create a beautiful arrangement to suit your purposes for any occasion and in any price range.