Boutonnières are a floral decoration worn by men to accessorize their suit or tuxedo look for a formal event, especially a wedding. It accentuates the groom's suit, but it also carries an important meaning that ties him with the bride.
The history of the boutonniere goes back to the medieval period when knights going to battle would wear a flower or scarf given to them by a female admirer. Today, the wedding boutonniere symbolizes the groom and groomsmen's bond with the bride and her bridal party. The one-time subtle accessory has become a way for the guys in your wedding to show off their style while complementing the floral theme you spent months putting together.
What is a Boutonniere?
These accessories are made from a flower or a small collection of blooms and greeneries that men wear on the lapel of their tuxedos or suits.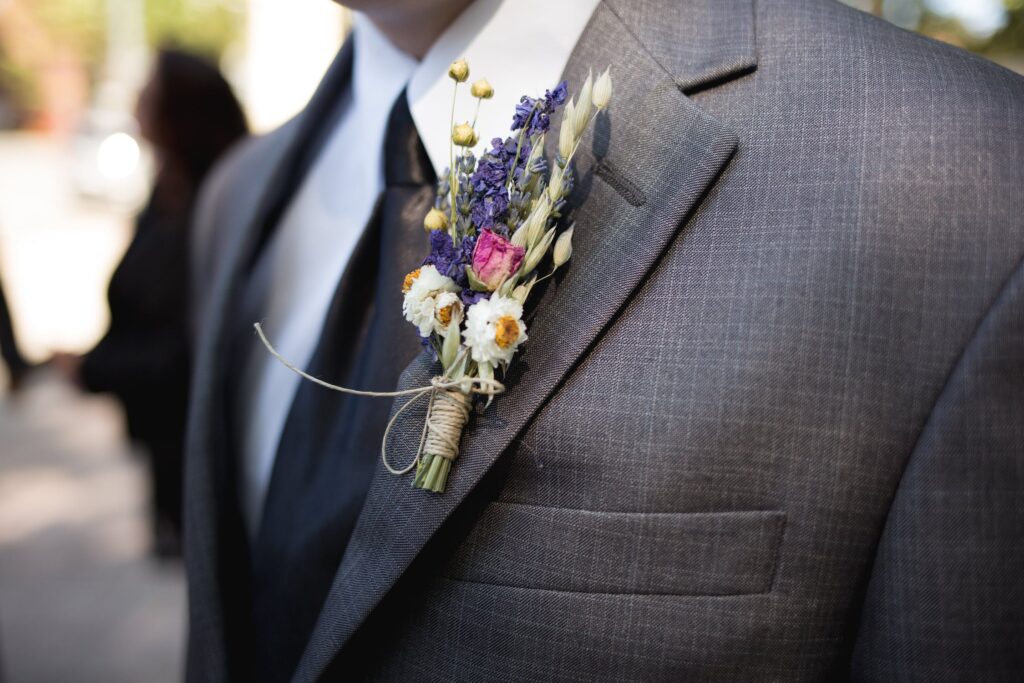 But did you know that boutonnière is the French word for "buttonhole?"
If not, it's okay..most people don't and are often confused on where the boutonnière should be placed.
Boutonnieres generally always go over your heart! (Or at least on the lapel on that side.) However, the groom may also pin the boutonniere on the right side provided that all the groomsmen will do the same.
Wearing a boutonniere creates a special distinction between a person and the rest of the attendees.
As a rule of thumb, males who play an important role in the wedding should wear a boutonniere. Traditionally, these roles include the groom, groomsmen, fathers of the couple, stepfathers of the couple, grandfathers of the couple, ring bearer, ushers, and immediate family members.
Note that the groom's wedding boutonniere is always different from everyone else in order to make him stand out. But more than that, the flower in focus is also coordinated with the bride's bouquet as a symbol of his ties to his soon-to-be-wife. The boutonniere is then positioned just above the heart to represent love and devotion.
Contrary to proms where the girl traditionally brings the boutonniere for her partner, the family of the groom normally buys the boutonniere flowers for weddings. However, it's still up to the couple's agreement on who will finance what. Even in the planning and choosing of the boutonniere, both the bride-to-be and groom-to-be usually participate in the process.
Classic Boutonniere Flowers
Calla Lilies
Lilies often carry symbols of purity and faith, which is why they are ideal flowers for such an intimate event like weddings. A white display is a clever choice when aiming for a sophisticated look. But other selections such as yellow mini calla or red-orange lilies also won't disappoint.
Wedding Boutonniere Idea: Accent these flowers with loops of bear grass or baby's breath and wrap the boutonniere in a thick twine rope.
Carnations
One of the easiest flowers to find, carnations are among the popular choices when it comes to wedding boutonnieres.
White and red carnations are on the top charts as they can make a simple yet elegant appeal.
Wedding Boutonniere Idea: Aside from the ruffled petals that are worth flaunting, the best part about carnation boutonnieres is their versatility. They can easily blend well with fillers, though they can already suffice even without the additional elements.
Chrysanthemums
Also referred to as mums, chrysanthemums are often used in bridal bouquets but that doesn't directly exclude the groom from taking advantage of their charm. Though they are not the most popular boutonniere flower selections, they sure can be a sight to behold when fixed on the groom's lapel.
Wedding Boutonniere Idea: Opt for a white chrysanthemum accented with pink fillers and berries. Then tie this boutonniere flower in a teal ribbon with a slightly rough texture to give it a modern kick. But if you're going for a darker shade, rust-colored chrysanthemums with seeded eucalyptus and vibrant fillers tied in a twine rope can also give your lapel a quick style upgrade.
Hyacinths
Flowers that express constancy and sincerity need no further scrutiny to pass as an excellent choice for a wedding boutonniere. Simply put, hyacinths are here to deliver the message. These boutonniere flowers have strap-like petals and form a bell shape, making them look exotic. If its appearance doesn't seem enough to make you favor a hyacinth, then its captivating fragrance might seal the deal.
Wedding Boutonniere Idea: Opt for an organza ribbon-tied grape hyacinth a boutonniere matched with bear grass loops to create more depth.
Jasmine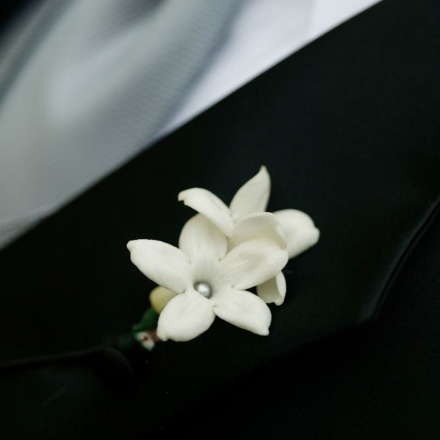 Jasmines are iconic flowers that are very popular across the globe. They perfectly exemplify the idea of enchanting beauty and a heavenly scent combined.
While you may easily recognize these blooms by their fragrance, don't get confused because there is such a thing as fake jasmines. They belong to a different genus and can be toxic when consumed.
Wedding Boutonniere Idea: The white jasmine is an icon in itself. Its waxy texture combined with deep greeneries can create a classic yet refreshing display.
Orchid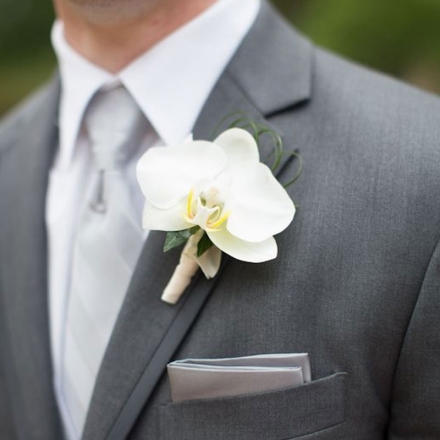 One of the commonly used wedding flowers, an orchid signifies love and rare charm. There's something so special about its delicate structure and exotic beauty that makes it stand out. The bonus part about orchids is that they have a bountiful of color variations so you'll never struggle in matching an orchid boutonniere with its surrounding elements.
Wedding Boutonniere Idea: If aiming for a light-hued boutonniere, you'll never go wrong with white. A bright orchid doesn't even need much greenery for it to pop, you can just tie the blooms with a deep-colored ribbon with print designs. A yellow orchid boutonniere also creates a unique yet fascinating display.
Ranunculus
The captivating beauty of ranunculus is quite hard to deny. Often associated with charm and attractiveness, this boutonniere flower's thin petals that resemble a crepe paper are enough to express your fascination to the angel who captured your heart whom you are soon to call your wife. The best part? They have a wide diversity of colors that almost every hue in the rainbow is not impossible to find.
Wedding Boutonniere Idea: Achieve a tropical look with an orange ranunculus with pink astilbe and green berries completed in a dark satin ribbon.
Roses
Since weddings celebrate love and romance, why not go for a boutonniere flower that speaks volumes of passionate affection? Roses are probably one of the most requested boutonniere flowers. Not only do they evoke grace and beauty but they also drive in heartfelt messages. For instance, the classic red rose is often associated with romance while white is for eternal love. Meanwhile, yellow roses symbolize new beginnings.
Whether you opt to go for white rose symbolizing eternal affection or the classic red rose to express passion, a rose boutonniere is definitely a great addition to the wedding ensemble.
Wedding Boutonniere Idea: Adorn your boutonniere with a sprig of greeneries as fillers. In choosing the ribbon, go for textured fabrics that can match roses' sophistication. Think of velvet, satin, or lace ribbons.
Tulips
Aside from the classic rose, one of the blooms that carry symbolic meanings of affection is the tulips. In fact, these boutonnieres mean perfect love and happiness. These spring flowers are especially ideal if you're looking to find bouts in pastel shades.
Wedding Boutonniere Idea: Make your boutonniere pretty in pink tulips with bells of Ireland or lily grass as the background. A copper wire can give this arrangement a punch of personality.
###
SOURCE: https://www.flowerpatchdelivery.com/blog/flowers-best-wedding-boutonnieres
SuEllen's Floral Company can create beautiful, unique, custom-made boutonnieres for your wedding in any price range.