There are so many choices to make when planning your wedding! Flowers on the alter, flower centerpieces, flowers for the bouquet and the boutonniere … flowers, flowers, flowers! Then, once you've chosen the perfect flowers, they need accent or filler flowers, too! Here are some beautiful filler flowers that you might want to consider for your wedding.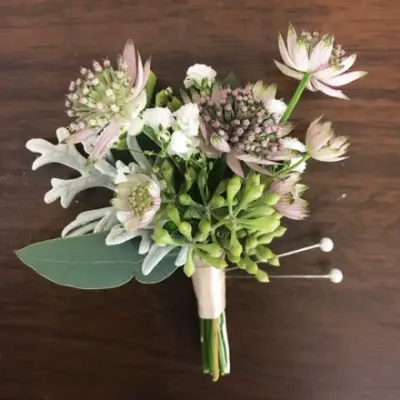 Astrantia
Astrantias are also referred to as masterworts. If you're on the hunt for flowers with depth and volume, astrantias are never a bad idea. These blooms possess an exotic beauty that can significantly impact the groom's suit.
Wedding Boutonniere Idea: Create an eccentric boutonniere by putting together astrantia and one stem of white rose.
Larkspur
Larkspurs are a great addition to a landscape but these flowering plants are also ideal fillers to the wedding boutonnieres. They come in different colors namely blue, white, purple, and pink. But even in their unbudded form, larkspurs can already be used to accessorize wedding suits.
Wedding Boutonniere Idea: You can combine different filler flowers to make a stunning boutonniere. For example, put together unbudded larkspur, dusty miller and a burgundy amaranthus fixed in a rose gold mesh ribbon.
Rice Flowers
Also known as pill flower, white dogwood, or sago bush, rice flowers are blooms that are commonly used in weddings. The name was derived from the rice-like appearance that they make once they form a cluster. Due to their minute appearance, rice flowers are mostly used as a filler to another foreground flower.
Wedding Boutonniere Idea: Pair the rice flowers with a bigger bloom in white, such as a rose or freesia. Then complete the boutonniere in a pine green paper ribbon.
Wax Flower
Known to have flowers similar to those of tea trees, wax flowers are one of the unpopular boutonniere selections that you won't regret choosing. Though they have tiny petals, they're definitely a finishing touch that can catch anyone's attention.
Wedding Boutonniere Idea: Give your boutonniere a modern spin by accenting a succulent with wax flowers. Find a black or burgundy grosgrain ribbon for added allure.
###
SOURCE: https://www.flowerpatchdelivery.com/blog/flowers-best-wedding-boutonnieres/
SuEllen's Floral Company can create beautiful, unique, custom-made boutonnieres for your wedding in any price range.