Weddings are such a huge milestone in a romantic relationship. This is why it is only understandable why soon-to-be wedded couples often spend careful attention to every detail, including boutonniere flowers.
As you're on the lookout for the perfect boutonniere, take note that more than the visual, the underlying meanings behind those fascinating blooms are also worth knowing. The wedding boutonniere symbolizes the groom and groomsmen's bond with the bride and her bridal party.
But did you know that boutonnière is the French word for "buttonhole?"
If not, it's okay … most people don't and are often confused as to where the boutonnière should be placed.
Buttonhole Method
The buttonhole method is a simple way of putting on the boutonniere that does not require the use of pins.
Instead, the stem is stuck through the buttonhole.
#
Lapel Method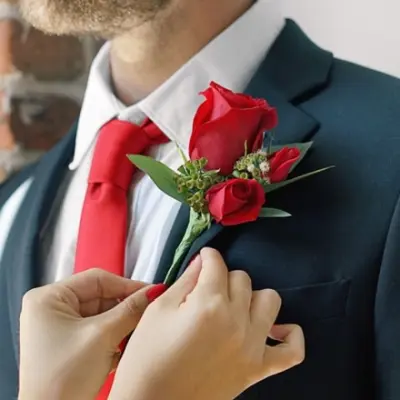 This method is one of the widely-used techniques where the boutonniere is simply pinned to the left side of the lapel. You begin by fixing the boutonniere flower on its designated position.
Note that it should be placed just above a man's heart.
Afterwards, pin the accessory diagonally starting off with the thickest part of the stem. Make sure to secure the boutonniere well and use another pin if you deem it necessary
#
Shirt Method
The shirt method works almost the same way as the lapel technique. But rather than on the suit, the boutonniere is pinned on the fabric of the shirt. Another difference is that the pin is first secured on the shirt creating an alternative "pocket" where the boutonniere flower will then be inserted.
#
SOURCE: https://www.flowerpatchdelivery.com/blog/flowers-best-wedding-boutonnieres/
SuEllen's Floral Company can create beautiful, unique, custom-made boutonnieres for your wedding in any price range.